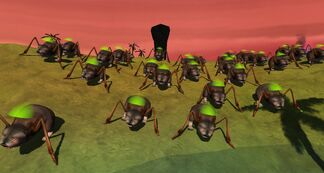 Overpopulation is an ability introduced in Creature Chaos that greatly reduces the time needed to build creatures that possess it. In many cases, creatures with this ability require less than two seconds each to build.
In that context Overpopulation seems like a very useful trait, but the fact that the Lemming is the only animal that possesses it makes it difficult to implement because of its poor stats. In spite of this, it is potentially very useful for Rushing, especially in the "Chamber Rush" tactic.
Animals with this ability
Edit
Lemming (Inherent) (Creature Chaos only)
If a creature with this ability takes less than 2 seconds to build in-game, it causes a graphics glitch in the Creature Chamber; the particle effects that are normally shown when building a creature fail to appear due to the speed of production, but endlessly remain once the creature is created. Building a creature without Overpopulation usually fixes this.
Ad blocker interference detected!
Wikia is a free-to-use site that makes money from advertising. We have a modified experience for viewers using ad blockers

Wikia is not accessible if you've made further modifications. Remove the custom ad blocker rule(s) and the page will load as expected.