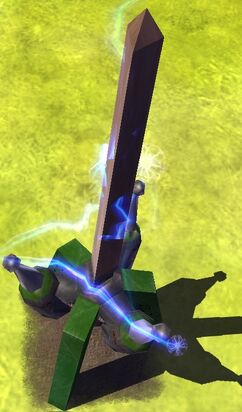 In
Impossible Creatures
, electricity is one of the two resources required to create combined creatures and henchmen, construct buildings and research various upgrades. The other resource is
Coal
.
Electricity is gathered by the Lightning Rod and Electrical Generator, the former shown in the image to the right. The player begins with a small amount of electricity, but more must be gathered to support their economy.
A combined creature's electricity cost is influenced by its abilities. A creature with several abilities and/or very powerful ones, such as Loner, will cost much more electricity than one that has no special abilities.
From Insect Invasion onwards, a Workshop can convert electricity into coal and vice-versa, but a player will not get 100% value for it; for example, 50 electricity is converted into 15 coal.